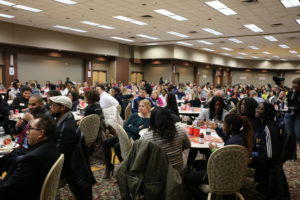 The Center for Culturally Responsive Engagement and the Graduate School of Education hosted the day-long Missing Voices: Equity in Education Summit on Thursday, February 28, 2019. This year's event was "sold out" with over 300 students, families, community members and educators from K-12 and higher education who gathered at Saint Mary's University Center in Minneapolis.
The Summit brings together individuals and collective groups to increase action-oriented skills and knowledge to improve educational equity for all students. Each year the Summit focuses on a sub theme that promotes positive solutions focused on diversity, inclusion, and intercultural competence. This year's theme, Advocate: Access & Act! centered on advocacy and civic engagement.
Participants were treated to an amazing day filled with a variety of keynote speakers and breakout sessions. The Summit opened with a Native blessing, drum group, and land acknowledgment to the Indigenous Tribes. Shortly after the welcome, Minneapolis Mayor Frey spoke to the audience about the critical need to include all voices in education for the health and wellness of our City. During an award ceremony over the lunch hour, Dr. Rebecca Hopkins, Dean of Education, honored individuals whose everyday experiences demonstrated commitment to social and racial justice.
Details about the awardees:
The Culturally Responsive Leadership Award recognizes an educator who is a collaborative, innovative and future-thinking solution seeker working to address issues of equity in education. This year's award was given to Nate Beulah, an alumni of Saint Mary's University who teaches ethnic studies at Northeast Middle School in Minneapolis.
The Community Advocate for Change Award celebrates work being done by an individual within the greater community who works to help parents, families and communities address issues of educational equity. This year's award was given to Dinna Wade-Ardley, the director of educational equity at Bloomington Public Schools.
The Youth Equity Solutions (YES!) Award honors a high school through college-age youth who works for educational equity within their school or community. This year's award was given to Juan Sarenpa, a student at Venture Academy Public Charter School.
Missing Voices Summit is much more than a "one and done" event. For months in advance, Dr. Teresa Taylor, Chair (and Executive Director, Center for Culturally Responsive Teaching) along with Dr. Louise Covert and Becky Accettura, collaborated with Youth Equity Solutions (YES!), a team of high school students who met weekly to develop individual and cooperative leadership skills while helping to plan the Summit. The youth served as Master of Ceremonies and were integral to advancing dialogue throughout the day through engagement activities. During these interactions, students became teachers and teachers became students.
YES! members include students from the Twin Cities metropolitan area. This year, the group welcomed brand new members from South Saint Paul High School and one of our Lasallian partner schools, Totino-Grace High School. Additionally, students from another partner school, DeLasalle High School, attended the event in large numbers. The YES! members are currently expanding their commitment to equity and excellence in education in planning with Dr. Taylor and her team for an upcoming Youth Action Retreat. You haven't heard the last of these dedicated young voices!