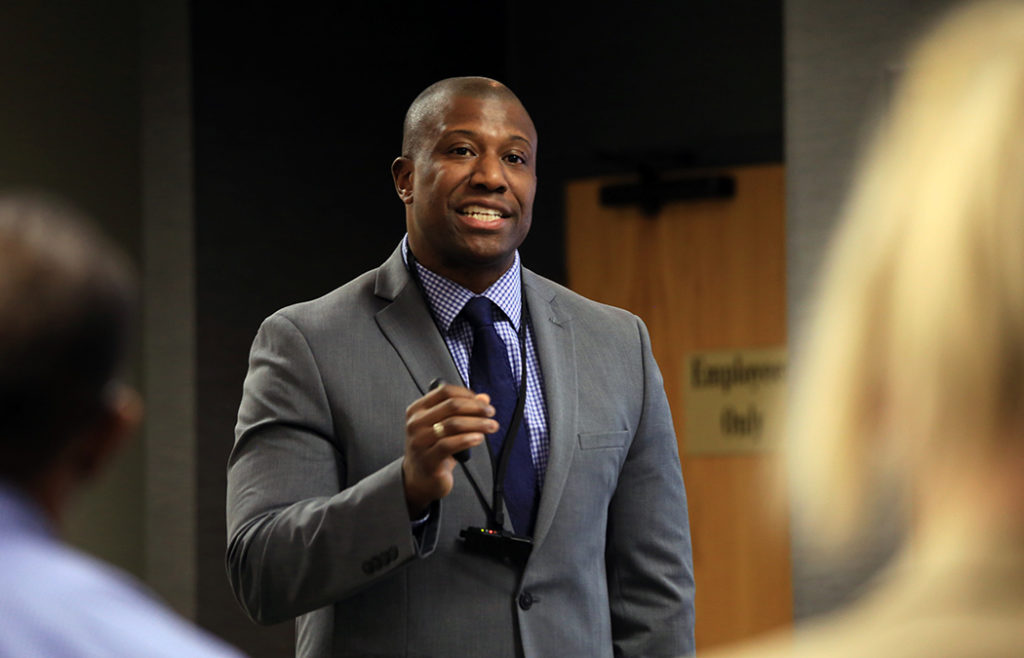 When it comes to looking at the interactions between police officers and civilians, especially those made in extremely stressful situations, Shawn Williams D'19 knows it is too easy to only look at the statistics and draw conclusions. That's not the full picture. 
Dr. Wiliams is very familiar with these statistics after serving as a police officer for 17 years, including tenures with the Bloomington and Minneapolis police departments. He spent a collective 16 years assisting or leading use-of-force training for new police recruits in various capacities. According to the National Institute of Justice, use-of-force tactics refer to the "amount of effort required by an officer to compel compliance by an unwilling subject."
Through his own experiences, Dr. Williams knew gaps in research and training existed at nine Minnesota training facilities, which provide training to all new police recruits. 
Dr. Williams, who recently earned his Doctorate of Education in Leadership at Saint Mary's University, presented the findings of a phenomenological, comparative study of practices throughout the state of Minnesota on March 7 titled "Split-Second Decision Making in Police Use-of-Force Training." 
"I didn't want to use statistics," Dr. Williams told the crowd. "I wanted to hear what law enforcement personnel are doing in their own training facilities to assist future officers with being competent, efficient, and using force only when need be."
His study demonstrated the need for uniformity of initial use-of-force training across the state's training facilities, something that nearly every other state has, as well as the U.S. military.
"There's a solid base layer of training that most programs have that we in Minnesota currently do not have," Dr. Williams said. 
In addition, Dr. Williams' research highlighted the collective confusion that resulted from the use of one word in particular: proficiency.
All training centers in the state follow the objectives formed by the Minnesota Board of Peace Officer Standards and Training (POST), which has the following general learning goal: "The officer will demonstrate proficiency and explain the importance of unarmed control measures, which are authorized by the officer's agency."
"The POST board uses the word proficiency, but does not define what they mean by the word proficiency," said Dr. Williams, who teaches law enforcement classes as an assistant professor of criminal justice at St. Cloud State University, as well as serves as the school's professional peace officer education program coordinator. 
His research formed the nucleus of his doctoral dissertation, which he defended in July 2019 with Yvette Pye, Ph.D., as his dissertation adviser. Dr. Pye commended Dr. Williams' end goal to help his industry and the community.
During a seven-month period that began in 2018, Dr. Williams interviewed three veteran use-of-force instructors located at three of the four largest training centers in Minnesota based on recruits trained. The instructors had an average of 23 years of experience as police officers before leading the training at their facilities. He asked the same questions to a veteran military combatives instructor, who had 16 years of military experience, including six deployments. The interviews were recorded on video, transcribed, shown to the interviewees, and then coded.
The interviews were reviewed and analyzed using the qualitative data analysis software NVivo to determine the words that were used the most. Several themes emerged, including subjective trainer qualifications, styles of instruction, and hours allotted for training dictated by organizations rather than trainer input. 
Per POST guidelines, all recruits receive 64 to 80 hours of use-of-force training, as dictated by the institution in which the skills program is located. But this is not always enough time for trainees to reach the skill level that society expects.
Dr. Williams has begun the initial steps of a follow-up quantitative study to survey the approximate 10,900 police officers in Minnesota to assess their overall confidence in the use-of-force training they received.
Gaining a new perspective
Dr. Williams began the Ed.D. program at Saint Mary's in 2014 while working as a member of the SWAT team for the Minneapolis Police Department.
At that time, several incidents between officers and civilians had caused civic unrest. An incident in November 2015 stands out in his mind. A 24-year-old man named Jamar Clark was shot and killed by two officers of the Minneapolis Police Department three days after Williams gave a presentation on how law enforcement could have better cohesion with the community it serves.
"I got to open my circle a lot more than what it was. I was allowed to get out of my comfort zone. This program allowed me to let go of some of my own biases and take in what community members were saying." 

 

— Dr. Shawn Williams
"I was the only one in my courses who worked in law enforcement at that time," Dr. Williams said. "I had an opportunity to have a lot of open conversations with my classmates."
At the time, Williams had seven years of service on the SWAT team, so nearly his whole worldview was connected to the law enforcement community. Hearing from the perspective of civilians in the classroom helped him develop a stronger sense of empathy.
"I got to open my circle a lot more than what it was. I was allowed to get out of my comfort zone," he said. "This program allowed me to let go of some of my own biases and take in what community members were saying."