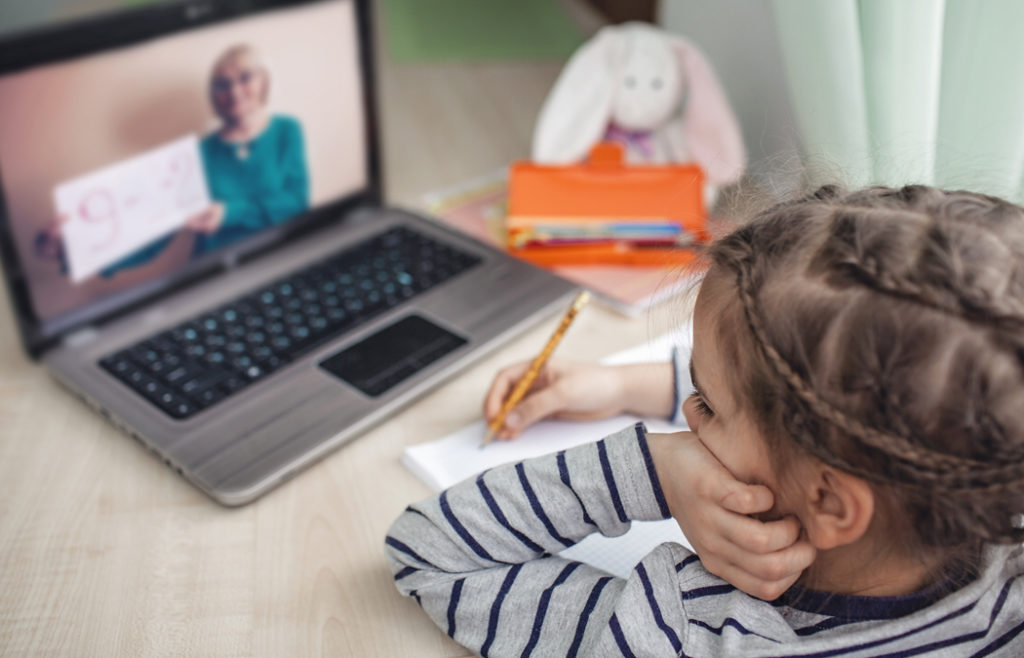 Alumni of the M.Ed. in Learning Design and Technology (LDT) online program at Saint Mary's University of Minnesota knew the skills they learned would be useful in their classrooms. But few could have predicted the situation facing teachers all over the country as schools have switched to online learning modules in the interest of maintaining proper social distance practices to lower the effect of the COVID-19 pandemic.
We recently caught up with two members of the 224 alumni who have come through the program since it began in 2014 to find out how they are using their newfound skills in the new normal of remote teaching.
Joanne Schneider, first grade teacher, St. Joseph, Minn.
On March 13, Joanne Schneider M'17, a teacher at St. Joseph Catholic School, taught her 17 students in the classroom. Five days later, she began teaching them remotely after Minnesota Gov. Tim Walz ordered all the state's schools to be closed by March 18. Being a private school, St. Joseph's administrators decided to close immediately. 
"When I put my kids on the bus that Friday, I fully expected to see them Monday morning, and I never got them back again," said Schneider, who has been at the school for 17 years and has worked 30-plus years in schools in the Diocese of St. Cloud. 
To make matters more interesting, Schneider and her husband have five children, but were used to being empty nesters — until their three college-aged children moved back home, all of whom are on very different academic paths.
The youngest, Sam ('23), is a first-year student at Saint Mary's and catcher on the Cardinals baseball team. She also has two daughters, one of whom is a medical student; the other has special needs.
"The biggest thing is, we need to have enough bandwidth for everybody who's online," Schneider said. "It's a little crazy around here, but it's OK. It's fun to have them all home."
In spite of the new home situation, Schneider said she has felt prepared from day one, thanks to the training she received in the LDT program.
"I love being in the classroom, and I feed off my kids," she said. "All of a sudden, there was a whole new spin on my training, and I felt like there were just so many things that I pulled and used, but in very different ways than we ever talked about using it."
What has been most helpful, she said, was the emphasis the program placed on tablet computers, in particular iPads. As soon as Schneider started the program, she began integrating iPads into the traditional classroom setting, so they were not just sources of, in her words, "extra fluff."
She had implemented something known as "Genius Hour," inspired by an idea that started at Google, in which her kids would take an hour to research questions that lingered in the minds of first graders like: Why does the week have seven days? Or, the inner workings of hairbows. The students would later present their findings to the class.
"I have a lot of kids who now have more time to do self-directed learning," Schneider said. "But now they know how to do it in a useful way."
Amanda Otero, fifth grade teacher, Rosemount, Minn.
Since starting the program, Amanda Otero M'18 has actively tried to recruit fellow teachers from her school, Rosemount Elementary. One of them, Zachary Gonsioroski M'19, started a year after she did.
"I tell them this is a program that will help you be the teacher you need to be today, and it will help you be the teacher you want to be in the future," Otero said. "It gives you the student perspective of what it's like to be an online student, but it also builds your own capacity to learn in a way you can then apply to your own teaching."
Upon hearing the news of Gov. Walz's decision, Otero's school decided to close down for a week to prepare for online learning. Then, the school had its spring break, so Otero met with her 28 students remotely for the first time on March 30. 
Her school had started to give each student an iPad right when she started the LDT program, so she also started implementing tablet-based strategies directly into her classroom.
Although her students are comfortable with learning on an iPad, Otero has tried to go beyond replicating what they did in the classroom with the devices.
"My students are more able to redefine what we can do," said Otero, who spent four of her 11 total years of teaching at Rosemount.
One of the initiatives that Otero started with her class is "Field Trip Fridays," where through technology, her students can explore different parts of the world, primarily using Google Earth. 
Recently, she created a digital learning experience centered around animal sounds. The interactive material was first sampled and later approved by her son, who is a freshman high school student doing distance learning of his own. She has since shared the resources she used to create the material, so her fellow teachers could create their own experiences for their students. 
Otero first started thinking of joining the LDT program after hearing about it from a fellow faculty member at her school, who is also an alumnus: Gina Stangl M'16.
"I could never anticipate that someday we might do distance learning in an emergency situation, but I embrace the 21st century teaching and learning philosophy driving that program," Otero said. 
She tries to apply that philosophy to her own life and in helping both her students and her son with their education, "so that we can really be looking forward and leaning into what's to come."