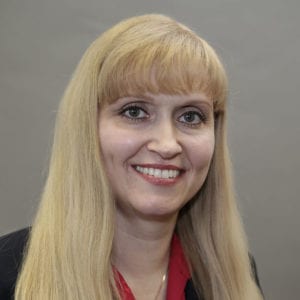 Shannon K. Cisewski, Associate Program Director for the Doctor of Education in Leadership program presented the paper, "Mentoring in the Luyia Culture: Elder's Roles in Mentoring (Socializing) Young People" at the 11th Annual Mentoring Conference: Mentoring, Coaching, and Leadership for Innovation and Entrepreneurship. The conference was held in October at the University of New Mexico in Albuquerque, NM.
Dr. Cisewski's research took place in the Summer 2017 when she spent a month in Kenya as part of the Maryknoll Institute of African Studies (MIAS) program in partnership with Saint Mary's University. The primary goal of the project was to discuss mentoring (socializing) young people within the Luyia cultural context of Kenya and data was gathered from individuals in positions who perform mentoring actions. Grandparents play a very important role in mentoring young people in the African culture. Dr. Cisewski drew on the work of Mariae (2006) who indicated that even though grandparents do not have strict legal obligations, their relationship with their grandchildren is nevertheless significant. Because of their status near the ancestors they are spontaneously close to the child and on an equal footing because they come directly from the other world.
In particular, Dr. Cisewski investigated the Luyia community and focused on kinship obligations and roles, specifically, how young people receive formation and education (mentoring) from Elders in the community. A field assistant from the Luyia community arranged access to the interviewees and translated when necessary. The research questions included:
      How do Elders introduce young people to the values and traditions?

      How do Elders use storytelling, songs, proverbs or other techniques?

      How do Elders introduce young people to husband-wife relationships?

      How do Elders introduce young people to appropriate behavior for boys?

      How do Elders introduce young people to appropriate behavior for girls?
This exercise allowed Dr. Cisewski an opportunity to form a better understanding about some of the cultural aspects of the Luyia community and how Elders demonstrate leadership. After she returned, Dr. Cisewski said that the journey opened her eyes to the challenges that developing countries face. "I am convinced that we must join together to form a better vision of developing countries, including Africa" she remarked, and further quoted the scholar Kinoti who indicated that "the most important first step is to get the vision of a better Africa, an Africa where all the people enjoy human dignity, spiritual and moral wellbeing, peace, freedom justice and prosperity". For more information on Dr. Cisewski's research, contact her at scisewsk@smumn.edu.