Written by: Katie Hubbard, M'10
"When children are encouraged to learn independently, and when teachers, parents, and communities work together to build optimal environments for that learning, children's success in reading and writing can be expected" (NAEYC, 1998; Neuman, 1998; Schickedanz, 1998).
JumpStart's Read for the Record is an annual celebration of reading and highlights the importance of literacy learning.  Read for the Record is the world's largest shared reading experience—bringing together over 2 million people to read the same book on the same day.  Read for the Record is a way to inspire adults to read with children, and spur policymakers and organizations to take action towards transformative change in early education. Together we can put books in the hands of more children across the country.
As District Literacy Coordinator, I worked with the Literacy PLC to promote this event in each of our elementary buildings. We drummed up interest in the weeks prior to the big day by sending out invites to parents, grandparents, community members, and district administration. The day of the event, we had snacks for those attending and came together for a large group reading of the book. I followed this up with comprehension questions to engage students in conversation. Each student got a certificate saying they participated and we drew names for a few copies of the featured book. The JumpStart website has a plethora of resources to utilize before, during, and after the event.
This year's event is October 19th and the featured book is Quackers by Liz Wong.
"As a former District Reading Specialist I feel strongly about promoting literacy and ensuring there is a strong connection between home and school."
—Katie Hubbard, M'10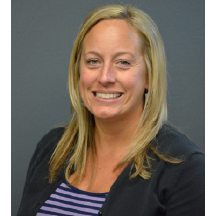 Program Director K-12 Reading Teacher/M.A. in Literacy Education