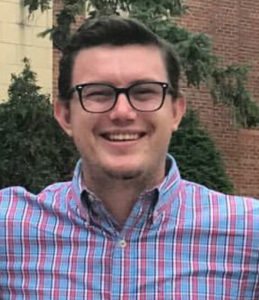 What's next? It's a question that college seniors are routinely asked as classes come to an end and commencement approaches. For Liam Wintroath, a graduate of Saint Mary's University who majored in Social Studies Education, the next step is moving to Chicago and teaching 7th grade at the San Miguel School through Lasallian Volunteers.
Lasallian Volunteers is a program of the De La Salle Christian Brothers of the Lasallian Region of North America. Since being founded in 1993, over 700 volunteers have served in schools and agencies alongside Brothers and other Lasallians. With the mission to empower the poor and build community, Lasallian Volunteers work as educators, social workers and recreation leaders.
When debating whether to begin working in a school district or serve through Lasallian Volunteers, Liam decided to pursue Lasallian Volunteers to grow both as a teacher-leader and person while giving back. As Liam explains, "The reason I wanted to do this program is firstly to continue to grow professionally, personally, and spiritually. I felt called to serve a community where the students and their families struggle with things that I could never imagine in my own life. I felt called to live in intentional community with other people dedicated to the work and mission of St. John Baptist De La Salle. I have a very strong desire to live in solidarity with my new community and to serve God's children through my ministry as both a teacher and coach."
After choosing to work with Lasallian Volunteers, Liam began the placement process for which community he would be serving in the upcoming service year. When the San Miguel School was brought up as a possible placement, Liam went to the Back of the Yards neighborhood in Chicago to see if it was the right fit. "I was sold on this school as being the place I need to serve after seeing the incredible sense of community and support that exists here," said Liam. "This community presented the types of challenges I was looking for; to serve a diverse community very much different from previous ones I have lived in, to live in a new place, and to serve a poor community that is in great need."
Liam will be joining the San Miguel School this fall as a 7th grade teacher, as well as coaching basketball and softball. We wish him all the best as he begins the year of service!