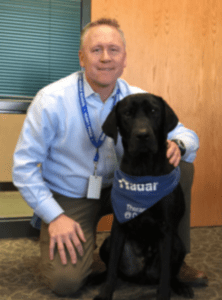 Why the dog?  Brian Ingemann's commitment to Oak Grove Middle School goes beyond his role as the building principal.  This picture shows Brian Ingemann, principal at Oak Grove Middle School in Bloomington, Minnesota alongside 'Radar' the school's therapy dog.  Brian's commitment to changing the school climate at Oak Grove brought him to seek school district approval for the district's first-ever resident therapy dog, Radar.  Radar is now a mainstay at Oak Grove and in Brian's words has "drastically changed how students view their school – and their principal!"
Brian has been at the helm at Oak Grove for 11 years and has recently joined our course-contracted faculty at Saint Mary's in the M.A. in Education program.  He has already taught two courses, EDMA 610 (Child Growth and Development) and EDMA 612 (Engaging Learning Environment). We took a moment to ask Brian some questions about his first experiences teaching in our program:
Share some experiences that have really opened your perspective about teaching in our graduate program…what do you enjoy most about your teaching experience so far?
I have been really impressed with the level of professionalism and dedication of the students in the Saint Mary's program. I really enjoy the deep conversations about effective teaching strategies that help support students academically, socially, and emotionally.
Has anything surprised you as you began this teaching journey?
The level of enthusiasm by students each week. Teaching is a very difficult job with a lot of demands put on teachers, and I have been impressed with the energy they bring each week to class.
What do you think are the key elements that must be in place to maintain a high level of engagement for the students?
Working with graduate students is much like working with students in the K-12 system, it's all about relationships and making connections with the students you meet. Graduate students are juggling a lot of extra things along with being a student so showing interest and creating a positive learning environment is important for their professional growth while enrolled in Saint Mary's.
Welcome, Brian!